Custom Framing Services in Saint Paul, MN
Though Grand Hill Gallery was only founded in 1997, we have experience in custom framing in Saint Paul, Mendota Heights, Maplewood, Roseville, and Lauderdale, MN going back almost 40 years. Our owner and master framer, Doug Nielsen, has been honing his craft for decades and has earned the respect of people throughout the Twin Cities area as an incredibly talented artist and framer.
With nearly 3,000 frame samples on hand, you have plenty of options to peruse to figure out what the best frame design is for your home. Here are just a few examples of the types of custom frames we create: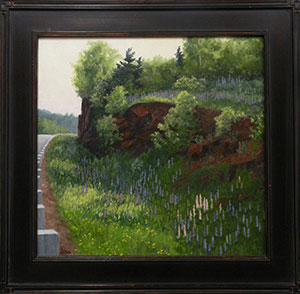 Custom framing: We use a wide variety of materials and style options to create picture and art frames in the size and shape you need for your artwork. A high-quality frame can truly be the finishing touch your artwork needs to fulfill its aesthetic potential.
Shadow boxes: If you have a collection or a grouping of items you'd like to place in a shadow box, we create custom boxes that fit your needs. The types of designs we create for our shadow boxes depend on the theme of the items that will be placed inside, the materials you'd like to use and the size you need.
Display boxes: Similar to shadow boxes, display boxes are often used to house collections or items of some importance. They also can quickly become much larger items. We are pleased to work with you to create a custom display box for your special items.
Our framing services are extensive, so if you have any questions about the types of services we provide, we encourage you to give us a call. Contact us at 651-227-4783 to speak to one of our team members about the art services we provide or visit us at our art gallery on Grand Avenue in Saint Paul.